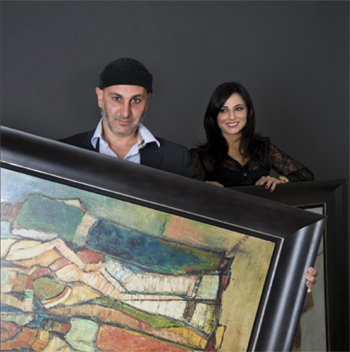 The Mokbel Art Collection is a project dedicated to promoting Lebanese art throughout the Middle East. Within the past decade, it has grown to encompass a great deal of the famous contemporary and modern Lebanese works.

Founded by Johnny & Nadine Mokbel in 1998, this precious collection of hand picked masterpieces has now become a multinational project dedicated to supporting already established Lebanese talent, as well as promoting new Lebanese artists on their rise to fame. From artists like Paul Guiragossian , Shafik Abboud, and Jamil Molaeb to Ayman Baalbaki and Benoit Debbane, a diverse assemblage of different styles and eras come together in this impressive gallery.

The Mokbel Art Collection views its commitment to Lebanese art as a social responsibility and is currently working on more efforts to encourage young talented upcoming Lebanese artists, whose artwork is part of The Mokbel Art Collection, by increasing their exposure to the Art World and introducing their brilliant work to the public. Already quite a few names have achieved great recognition and admiration for their work due to The Mokbel Art Collection project, who ensures exclusively hand picked fine paintings.

One of the defining factors of Lebanese art is its distinctive national character – Lebanon is often said to follow a 'third way' meaning it is neither European, nor Asian or American but uniquely Lebanese. In this sense, we believe that Lebanon, with its vast multi-culture and its intense history, has affected many of its artists through social and personal issues that have helped create a form of art like none other, a depiction of an emotional aspect of Lebanese life, and therefore a particular style of art. Whether it is Guiragossian's portrayal of the slums of Beirut or Ayman Baalbaki's old car tire, the viewer cannot deny the powerful impressions those paintings leave on us. Those who are familiar with Lebanon may identify with the events or situations portrayed in those paintings, while others will simply admire their art for Art's sake.